I'm having a hard time finding the bands that we like...We actually found the style but none of search engine sites that i've looked at has them..Nor do i TRUST them..
So where can i start looking besides the top 5 vendors listed on diamondinfo?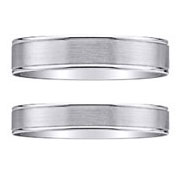 A set in palladium..
Does $495 (6mm width, size 8.5)and $395 (3mm width, size 4)sound expensive for mine and hers?
Thats a quote that i got from a local jeweler that i purchased my loose diamond from...(they already raped me on the setting price)